November 20th
The Scottish Poetry library held a Poetry Pamphlet Fair yesterday at their headquarters just off the Canongate in Edinburgh.
Although difficult to find - lots of people did attend, and lots of conversations were had with friends old and new -
and some sales as well!
October 2nd 2022
It's been a busy summer!
As well as the monthly "PromArt" at Grange-over-sands in Cumbria, Hestan Isle Press has appeared in Craft tents at no less than five Agricultural Shows in Cumbria and Lancashire. Very rewarding if exhausting.
Meanwhile more linoprints have been created - see linocuts under "Online Shop", and also a letterpress printed poem by John Horn on the theme of reincarnation called "Reprise".
Printed in Gill Italic, each page has a specially created mini linocut by Peter Grant as the illustration.
The poem is pamphlet stitched into grey 300gsm Bockingford paper.
A lovely item at only £10.
May 17th 2022
Just back from a wonderful weekend in Edinburgh!
The Artists Bookmarket at the Fruitmarket Gallery in Market Street was the event, and thousands of Book and print enthusiasts turned out in the May sunshine, not just to look but to buy!
Hestan Isle Press stall was on the ground floor. Lots of lovely customers.
May 12th 2022
I've been beavering away making some linocut prints of some rare breed Sheep. They will form part of a series to take primarily to Agricultural shows such as Penrith, Garstang, Hodder
etc
They are about A5 in size, mounted and are available through my online shop - linocuts.
February 2022
Last year I shared a stall with my daughter at PromArt at Grange-over-sands in Cumbria.
Lots of lovely people were very complimentary about my linocuts which made it well worth the trip!
About 2pm on each of the Sundays a Little Egret turned up on the foreshore. Normally found in mediterranean regions or at best the very South of England I was excited to see this lovely cousin of the Heron so far North. Even though it was at the very limit of the zoom on my camera I managed a photo of it.
After a lot of experimentation a new linocut was the result.
June 27th
A new direction?
The last Sunday of each month between April and September there is "Prom Art" on the promenade at Grange over Sands in South Cumbria. This comprises around 80 stalls offering all kinds of art and craft. My daughter is a regular exhibitor with her "Roses Workshop" range of Harris Tweed objects and hand knitted items from the yarn from Rare Breeds of sheep. Yesterday I shared a stall with her.
When I was fourteen - some time ago - I learned linocutting at what was then called Carlisle College of Art, and learned to print on an early Victorian Columbian Press.
I have recently renewed my interest in the art of the linocut, and have produced a set of six Coasters of marine subjects
and I have made several prints of other subjects
So I took these to Grange just to see what the public thought of them.
I am pleased to say they met with some approval, and so they are now available from the Online shop.
March 29th 2021
Scotland is still locked-down as a result of the Corona virus, so I have used some of the time to print a second small edition of John Horn's evocative poem "snow".
The text is letterpress printed in blue on silk Mulberry paper, and each stanza is tipped into a leporello or accordion-fold strip.
The cover is watercolour paper printed with a line-block image taken from a picture of a snow covered fence which I photographed this time last year.
The edition is only 20 copies.
February 28th 2021
Instead of just handing out business cards when at craft or book fairs, I thought it might be a novelty to distribute Bookmarks!
I have just finished printing a selection. On the front is a small image, and a quotation from one of Hestan Isle Press books, whilst on the reverse is the all-important website address.
I think I will sell them at a nominal fee, or they can be free with any purchase. Could they become collectors items of the future?
January 27th 2021
Since Christmas I have spent a lot of time sorting through various boxes of "unbound" books.
When I finish printing a book I do not always bind the whole edition. I know I should - but I don't! So I have been working slowly through them and now have only ten miniature copies of "Benedicite Omnia Opera" to bind, and seven copies of "Old London Bridge" to finish.
I am very pleased with myself because now I have a lot more stock for sale.
I have also been printing some coasters from my own linoprints, and a selection of greetings cards from vintage printers blocks. These will appear on the website soon.
I await any confirmation of any book or craft fairs taking place this year - but so far there is nothing.
October 9th
I have just bound the first few copies of "The Whale". I am quite pleased with it.
I don't yet know the price - keep an eye on the "Online Shop", but the edition size is 32 signed copies.
The cover material is a lovely textured brown with tiny metallic blue flecks.
I have onlaid the shape of a whale and some bubbles in gold card.
September 5th
A NEW PRINTSHOP AT THE HESTAN ISLE PRESS
Originally a stable, the room was converted into a bedroom in the 1950's. Unaccountably cold, it was abandoned as a sleeping place about twenty years ago.
Over the last couple of months it has undergone a massive transformation – and it is hoped that it will be warmer, and completely usable as a dedicated printroom.
New wallpaper has been applied, along with some coving, new lighting has been designed to be specific each area of work – the letterpress area, the linoprinting area, and soon a screenprinting area.
There is a type storage section, a bookcase of printing magazines and books, paper and card storage, and the Hestan Isle Press archive containing a copy of every HIP publication.
Print drying rack
Type setting is done on the deep window sill, where, not only is the lighting good, but an eye can be kept on the birds and mammals which inhabit the semi-wild (unkempt some might say) garden.
May 22nd
Frances Grant passed away after a third stroke.
Activites at the Press will resume eventually.
May 5th 2020
What a strange year so far.
The outbreak of Coronavirus has become a pandemic, resulting in the cancellation or postponement of all Craft and Book Fairs at which Hestan Isle Press were due to exhibit (and sell of course).
Meanwhile, Frances has had another stroke and the lockdown has meant no hospital visiting.
This is very difficult to deal with, but I am managing to do some work on a new book "The Whale".
Frances and I translated the poem from the Anglo-Saxon poem "hwael" last year, and I am working on some lino-cuts with which to illustrate it.
I haven't done any lino-cutting since I made "Old London Bridge" in 2011, but I suppose it's like riding a bike, and I am finding it easier than I expected.
There will be seven or eight cuts, and the text will be 24pt Plantin.
Page size is larger than usual at about A4 landscape. The edition size I expect to be about 30 copies.
I hope I will be able to finish the book for the Autumn.
March 28th 2020
A lot has happened since last September.
Winter has not been bad weatherwise, but not much printing has been done because Frances went into Hospital in January and the daily visits have left little time for much else.
The outbreak of Coronavirus means that no hospital visits are allowed.
So many events have been cancelled because of the virus: for example, we shall not be at Castle Douglas, either in the Art Gallery, or at Threave Gardens.
The Self-publishing Fair at the Baltic in Gateshead (was May 9th) has also been postponed indefinitely.
September 8th 2019
Just finished sewing Frances' latest Poetry Pamphlet.
Called "Too young to be Naughty", it recounts an incident which happened to her when she was two. It concerns herself, a very energetic Toby Dog and a metal bath full of Soot!
It is Letterpress printed in two colours, with two illustrations by Frances, (and some 'mysterious' paw prints in a new grey ink which took a week to dry!) the pamphlet is sewn into covers of heavy Somerset paper. A6 Landscape format.
Edition of 32 copies.
April 29th 2019
Just returned from the Self-Publishing Artists Fair at the Baltic Centre for Contemporary Art at Gateshead. (27th April)
We had a lovely day - met lots of nice and talented people - and even sold some of our books.
March 5th 2019
Just finished "Peter and the Wolf" as a 16 page softcover booklet. The story is excitingly retold by Frances Grant. the book is illustrated with18 lively silhouettes.
We have also found a similar file of words and pictures for Charles Kingsley's "The Water-babies".
We've worked very hard on this material for a month - and have produced a 60 page soft cover booklet of the story (retold). The book has more than thirty silhouette illustrations by Frances Grant.
So that's three new books for 2019 already!
February 21st 2019
We usually have a "tidy-up" at the beginning of each year, and this year we found a long forgotten box containing photos and drawings of scenes and characters from "Peter and the Wolf" as retold and beautifully illustrated by Frances.
We had always intended that this material should one day form the basis of a book.
We have just finished the layout and a sample printing in square format.
It will have to be Digitally printed - either inkjet or laser.
January 6th 2019
Just finished a poetry pamphlet of "Mist at Sunrise" a short poem by Frances Grant.
Four letterpress pages on Clarefontaine 1714, sewn into a grey card cover with thermographic title in silver. Image of grasses on back cover printed in light grey.
It has turned out well using our newly acquired Carlton font.
December31st
Santa brought a font of 18pt Carlton type. It has been used but only lightly and is in very good condition.
Excellent for poetry we think.
Carlton was originally designed and cast by Ehmke (Holland) in 1908.
December 1st
The HOLLY AND IVY FESTIVAL OF CRAFTS starts today at the National Trust for Scotland's Threave gardens in Castle Douglas, Near Dumfries.
Here is a picture of our stall with our latest books for sale.
October 12th 2018
We have just finished "The Fishermen's "Tale".
We started printing on some Mixed media paper with a lovely texture - but for some reason this paper has been discontinued - so we had only enough for nine copies. The remaining part of the edition of twenty has been printed on Clairefontaine "1714" 200gsm.
The illustrations by Frances Grant have been digitally printed in grey, and the text in 24pt Plantin. It is such a joy to print from brand-new type!
The booklet is sewn into 300gsm plum coloured
card. The booklet is 21cm square.
We are very happy with the result.
Illustration by Frances Grant
September 24th
Another Hestan Isle Press book is taking shape.
Called "The Fishermen's Tale" it is the story of a miraculous escape from drowning. The text is to be letterpress printed from some new unused 24pt Plantin Stephenson Blake type. The Illustrations will be digitally printed from an original pen drawing by Frances. 21cm square it should be quite impressive. The next thing to do is to choose the paper - not an easy task.
July 23rd
The weather has been very hot for weeks. Today was a little cooler so we travelled again to Edinburgh, where we delivered a large parcel to the NLS at the Cowgate which contained all of the Hestan Isle Press publications since 1996. So now the Library has a copy of everything!
March 8th
After days of deep snow - we ventured out to Edinburgh today to deliver four copies of "time out of mind" for the Callum MacDonald Memorial Award 2018. Here's Hoping!
Whether we win or not we shall have copies available for sale at Castle Douglas, The Baltic, and all the other fairs and exhibitions (see NEWS for details)
December 12th
John Horn at the Poetry Pamphlet Fair at the National Library of Scotland!
The Annual Fair at the NLS is an opportunity for Poetry Publishers to show and (hopefully) sell their work, but the highlight of the event is that some of the poets whose work is for sale get to read three minutes-worth of their poetry to the public.
A lovely man called Gordon Jarvie read a poem of his about the Scottish Midge, but also very generously read Frances' poem "The Fighting of the Midge" - a real bonus!
Our friend John Horn from Waterbeck read his poems from "Trio" - a publication of ours which is now in its second edition.
A worthwhile evening as always.
December 9th 2017
Makers Fair at Bradford College.
We made the 120mile trip to the Old Dye Works Gallery at Bradford College, where we met some very nice people - and hopefully made some new friends.
Not many Bradfordians turned up in spite of lots of publicity.
June 5th 2017
The Shipley Wayzgoose was a wonderful day. the sun was shining and it seemed like the whole town had come to the Kirkgate Centre.
Whether they'd come to see what a Wayzgoose was, or just to sample the Cafe menu, I don't know. But they came in their hundreds with money to spend. Not only did we sell more of our hand-printed books than at any other fair we've been to, but we met lots of interesting people!
People like the man who had cycled from Land's End to John O'Groats - with an Adana Printing machine on the back of his bicycle - printing whenever he stopped!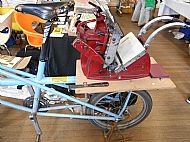 March 5th 2017
We had a wonderful day yesterday in St. Andrews at the Stanza Poet's Bookmart.
The weather was very wet but it didn't deter the poetry buyers, and our books sold better than expected.
We shared a table with Jennie Elliot (The Shed Press) who was winner of the Callum MacDonald Memorial Award 2016. We were runners-up in that competition, and so we swopped books and stories.
August 17th
John Horn has written an amazing critique of our book "Chat Noir"
It reads-
Le Chat Noir …
breathes its story into you
its soul captured in a magic pamphlet
that whispers scenes
more real than reality.
Listen to the cadence of singing images
read the living theatre of phrases
feel the hearts of characters
more alive than life.
Behold the ethereal beauty
of exquisite graphics
that dance in their stillness
like a frozen ballet.
Turn enchanted pages
that are wondrous dreams
from which you sadly awaken.
at the conclusion
of their spell binding narrative.
May 12th
Callum MacDonald Memorial Award at the National Library of Scotland.
"journey" by John Horn was one of six short-listed Poetry Pamphlets (out of 28 submitted). It was not one of the two winners - but it was a great evening.
Nice things were said about the publication
by Lesley Duncan who writes for the Glasgow Herald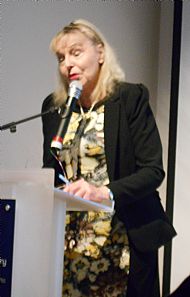 And John Horn gave a wonderful reading of the poem at this his first appearance at the National Library of Scotland.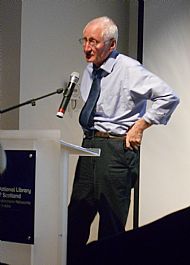 April 19th
Our latest Poetry Pamphlet "journey" written by John Horn and illustrated by Frances Grant has been shortlisted (six out of the whole of Scotland) for the Callum MacDonald Memorial Award at the National library of Scotland.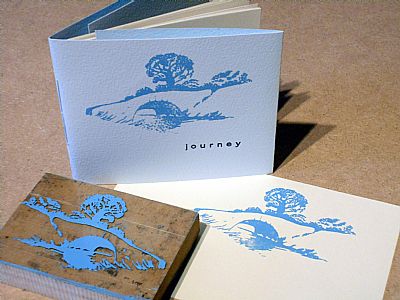 The awards ceremony is on May 12th at the NLS in Edinburgh at 6pm.
March 21st
Two of our books "Hiawatha" and "London Bridge" have been selected for an artists book exhibition at the Culturale Art Gallery Museum Nabilafluxus, Paese in Italy (near Venice).
The Exhibition is to be held at the Civic Museum, City of S.Dona Di
Piave (Venice) 23rd April – 8th May 2016
February 15th 2016
"King John and the Abbot of Canterbury" is finally finished, and it looks rather good.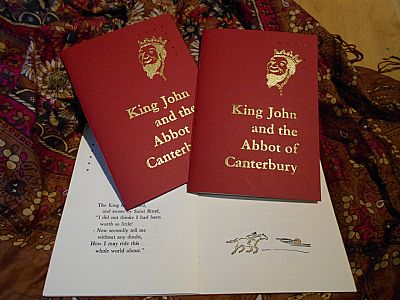 January 12th, 2016
A year ago we started making our own Photopolymer relief blocks.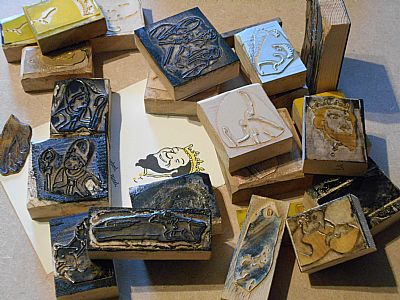 After a lot of experimentation with different Photopolymer materials we settled on KF95 Solar Plate from Intaglio in London. Exposure time at 10 - 12 minutes seemed to work, with 15 minutes for fine lines. All the illustrations are done - most in two colours - and look good. I have almost finished the 28 verses. Hope to have the book finished soon.
December 20th, 2015
Just finished a letterpress printed poetry pamphlet of John Horn's lovely poem "journey" with two illustrations by Frances Grant. Limited edition of 28 copies on Gerstaecker paper in Bockingford covers, signed by the printer, the illustrator, and the poet.
We think we might enter it in the Callum Macdonald Memorial Award next year. (NLS Edinburgh)
December 2nd , 2015
The Annual Poetry Pamphlet Fair at the National Library of Scotland was tonight at 6pm. We met some old friends like Leonard McDermid of the Stitchill Marigold Press (another Letterpress enthusiast), and made some new ones.
Bought Stephane Greene's "Flout" (Happenstance), and Morelle Smith's "The Ravens and the Lemon tree" (Poetry Scotland).
Sold the last copy of John Horn's "Trio". A good night was had by all.
January 12th, 2015
Our new U.V. Exposure Box has just arrived from p2c engineering on Canvey Island.
Our plan is to make our own Photopolymer relief blocks from Frances' line drawings to go with our letterpress type.
The big project for this year is to print a version of "King John and the Abbot of Canterbury" with two-colour illustrations. Watch this space!